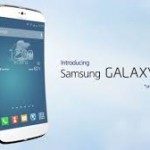 Next week at Mobile World Congress 2014, Samsung will reveal its brand new Smartphone – Galaxy S5, and Early in 2014, rumors suggested that Samsung Galaxy S5 will have Fingerprint Scanning technology like iPhone 5s.
Fingerprint scanners are becoming a popular feature for Smartphones, and SamMobile has confirmed that Samsung Galaxy S5 has a Fingerprint Scanner. Samsung Galaxy S5 device will come with a Biometric sensor capable of taking Fingerprint scans to unlock the Smartphone device.
Samsung hasn't opted for on-screen buttons and is still using physical buttons, like it has been using in the past on all of its flagship devices. The sensor itself works in a swipe manner, which means that you would need to swipe the entire pad of your finger, from base to tip, across the home key to register your fingerprint properly. Also, you would need to keep your finger flat against the home key and swipe at a moderate speed or else it won't recognise your fingerprint. The fingerprint sensor is sensitive to moisture, as well. So, don't try to use it with wet fingers because it will, literally, give you an error and tell you to dry your fingers first.
Samsung has implemented the use of fingerprint scanning throughout the operating system. You can register a total of 8 fingerprints and assign each fingerprint a different task or use it as an app shortcut, but at least 1 fingerprint must be used to unlock the device. A new Personal Folder and Private Mode has been developed by Samsung, where you will be able to hide personal apps, widgets, and content you want to keep private. To open and close your Personal Folder and Private Mode, you would need to swipe your registered finger over the home key after tapping on the home key, or you could simply use a different security method, like pattern unlock or security PIN. You will be able to verify your Samsung account using your fingerprint and will also be able to sign into different websites, without needing to enter your username or password ever again.
Other Specification of Samsung Galaxy S5:
5.24-inch AMOLED display with 2560 x 1440 resolution (560 pixel per inch density)
3GB of RAM, 32/64GB of memory
16-megapixel camera
3.2-megapixel front-facing camera
3200mAh battery
Samsung Galaxy S5 Processor: Device will come in two versions, one with an Exynos 6 processor and one with a Qualcomm Snapdragon 805 processor.