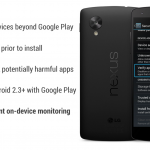 Google has announced a new security service for Android, which will monitor continuously all applications installed on the mobile device for any unwanted or malicious activity. According to the Google official blog posted by Android Security Engineer Rich Cannings :
 Verify apps: now protecting you continually
Building on Verify apps, which already protects people when they're installing apps outside of Google Play at the time of installation, we're rolling out a new enhancement which will now continually check devices to make sure that all apps are behaving in a safe manner, even after installation. In the last year, the foundation of this service—Verify apps—has been used more than 4 billion times to check apps at the time of install. This enhancement will take that protection even further, using Android's powerful app scanning system developed by the Android security and Safe Browsing teams.