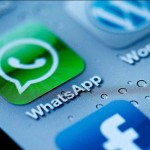 Facebook buys WhatsApp for $19 billion. WhatsApp is the most popular messaging app for smartphones, according to OnDevice Research. On announcing the deal Facebook CEO Mark Zuckerberg referenced this specifically:
"There are countries [such as] Korea or Japan where another messaging service is bigger, but if you look across the world, WhatsApp – across Europe, Latin America, India, a lot of places in Asia – is the clear leader."
Buying WhatsApp will only bolster Facebook's already strong position in the crowded messaging world.