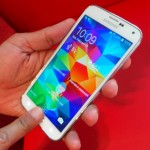 Samsung CEO J.K. Shin presented the new Samsung Galaxy S5 at the Mobile World Congress, the world's largest mobile phone trade show in Barcelona.The Samsung Galaxy S5 smartphone has a 5.1 inches (13 cms) screen and is powered by a 2.5GHz quad-core Snapdragon 801 chipset. There are 16GB and 32GB storage options, with an SD card that supports up to 128GB. The Samsung Galaxy S5 has 2GB RAM, NFC, Wi-Fi, USB 3, Bluetooth 4.0 low-energy, and support for the fifth-generation Wi-Fi 802.11ac standard for faster Wi-Fi delivery. Samsung Galaxy S5 has its own fingerprint scanner for unlocking privileges and mobile payments.
The phone includes a 16-megapixel rear-facing camera and a 2-megapixel sensor on the front. It promises faster auto focus and the ability to blur the foreground or background of an image to emphasize a subject.
Samsung will sell the Galaxy S5 on April 11 in over 150 countries.